When injury knocks you out, we'll get you back!
Skilled Physical Therapist in Somerville, MA and Brookline, MA
When you need a physical therapist that can help to relieve your pain, call Outback Physical Therapy. We will ensure that you have access to the treatment options and methods that don't just treat your pain and discomfort, but actively treat the source of the problem. In our state-of-the-art facilities in Somerville, MA and Brookline, MA our highly trained and fully licensed staff provides rehabilitation services for a variety of injuries and conditions. While we treat all sports and orthopedic conditions, runners and running injuries are our specialty. Whether you need help with a recent sports injury, a chronic orthopedic problem, or post-surgical condition, we can help you develop an individualized treatment program tailored specifically to your needs.
Our staff is comprised of dedicated individuals...
Our staff is comprised of dedicated individuals with a broad background in the field. In addition to their physical therapy license, they have also been trained in advanced manual therapy. They will develop a customized treatment plan just for you. You will receive one-on-one attention in a calm, relaxed setting. We also boast a state-of-the art gym facility to help you build your strength. The combination of our clinical expertise, customized care, and genuine dedication to patients makes our facility a top choice among patients.
For the strong manual therapy skills and attention to detail you're looking for in a physical therapist, come learn more about our approach at Outback Physical Therapy. Our practice accepts
most health insurance plans.
We also offer flexible appointments to best accommodate your schedule. We also work with patients from Cambridge, Medford and all over Boston. Contact us today to schedule an appointment!
Outback PT featured on WCVB Channel 5's "Chronicle"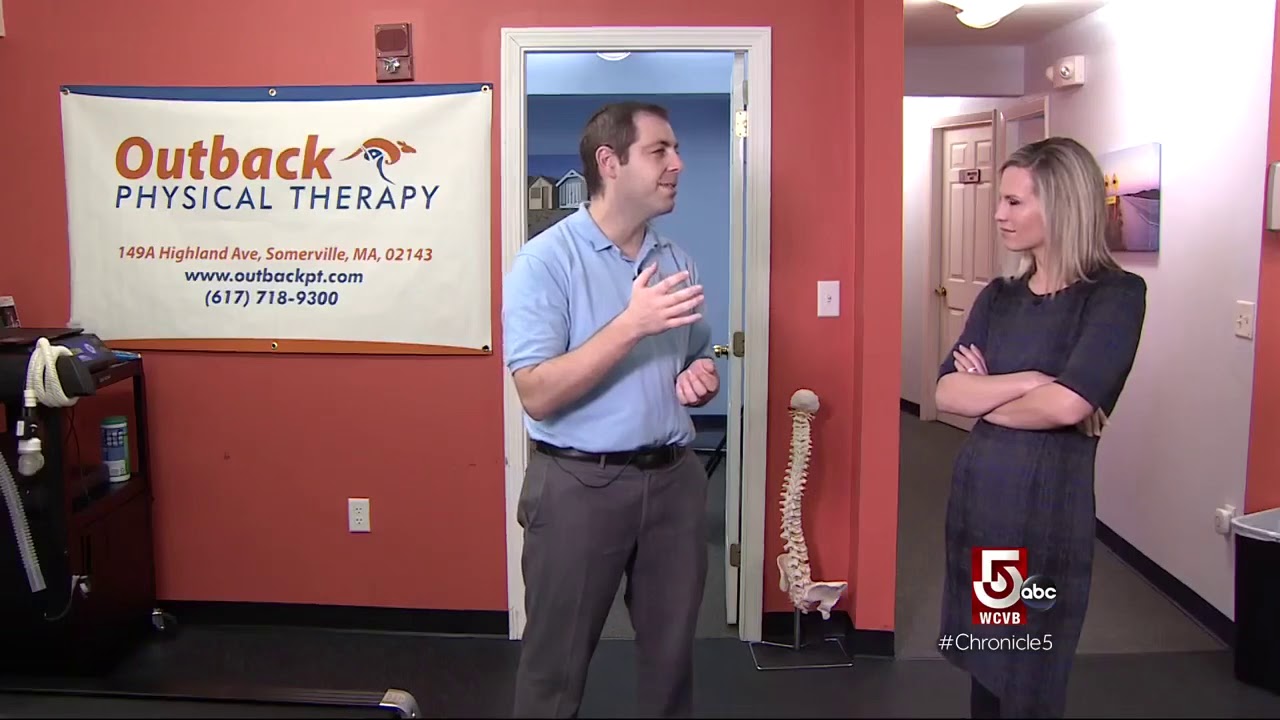 We treat all sports and orthopedic conditions including:
Highly Experienced

Strong Manual Therapy Skills

One-On-One Treatment With Doctors Of Physical Therapy

Individualized Treatment Programs Tailored Specifically To Your Needs
Our passion is your health
Memberships, Associations and Partners
"If you're in need of some physical therapy, this is the place to go. I injured my knee last summer and after several months of rest and seeing a chiropractor with limited results I decided to try something new. My orthopedist recommended PT and gave Outback a glowing recommendation so I set up an appointment. Ithamar, physical therapist and Outback founder, is amazing. After a thorough evaluation, Ithamar got to work on my knee and a few months later I am thrilled to be back and enjoying my favorite classes at the gym. But it doesn't stop there. After having a such a good experience with my knee I decided to see if Ithamar could do something about a back injury that has been plaguing me for a few years. I completed a course of physical therapy for my back soon after the injury but it didn't correct the problem. Most physical therapists will treat injuries like my back with deep tissue massage and exercises but that wasn't working on me. Ithamar used a different technique, joint mobilization, which has made a big difference. Not only that, but I had some difficulty getting my insurance to reimburse for this second round of physical therapy and Ithamar was like my very own patient advocate. He collected information that I needed to submit an appeal and checked in regularly with the insurance company to help keep the appeal moving through the system. If I ever need physical therapy again I'm headed straight to Outback."

"As someone who has gone through two unsuccessful rounds of physical therapy at two other providers I was very skeptical when my physician told me that I should try Outback Physical Therapy to treat my chronic back pain.

I'm so glad that I agreed to give PT one more try. Ithamar is an extremely knowledgeable and talented therapist who spends a full hour of one on one time including extensive manual therapy. He gave a thorough explanation of the customized treatment plan that will work for me. I finally found someone who I feel confident will help alleviate pain that I have had for years.




I would never again consider a PT factory where everyone gets the same treatment and several people are treated simultaneously. I drive approx 50 minutes to get to him but for the first time, it is worth my time."

"A ruptured Baker's cyst and knee swelling necessitated some PT, and I was eager to get to the root of the problem, especially as this was a recurring injury. As a competitive rower in the throes of winter training, I was keen to get back to full speed as soon as I could.




Ithamar walked me through a knee mini-anatomy lesson, and then began a battery of treatments, deep tissue massage, intense myofascial release, stim, the works. Coupled with some exercises to do on my own, this worked wonders. The knee currently feels great, and training is going well.




Ithamar was inquisitive and eager to figure out how to best treat my knee; the PT was tailored to my needs and effective. The facility itself was a little hard to find (it's easy to walk past on the street), but inside was clean and state-of-the-art, and with free wi-fi in the waiting area to boot.




I'm not hoping to need his services again, but if another injury creeps up, I won't hesitate to give Outback PT a ring.